I was sent a selection of Air Wick Life Scents home fragrance range which I have to say is really rather fabulous. It is the first fragrance range to use technology that combines changing aromas within one fragrance to create a multi-layered scent sensation.
Impressive!
The innovative, 'ever changing' fragrance retains its strength and freshness over time, as accords are able to remain separate so that different scents can be released and experienced in no particular order.
Each single fragrance in the range comes as an oil plug-in, Freshmatic room spray and mood-creating colour changing candles and reed diffusers.
I am not a fan of reed diffusers personally but I did try the other options.
The colour changing candle (£7.99) was wonderful watch and really relaxed me
Air Wick Life Scents Changing Aroma Home Fragrances
Air Wick Life Scents is available in four fragrances all year round: Summer Delights, Turquoise Oasis, Mystical Garden and Mum's Baking Special Spring/Summer editions to the range include Lush Hideaway and Paradise Retreat. The multi layers of aroma mean your senses won't get used to a fragrance and it fade into the background. Instead as it is ever changing so it will keep the aroma fresh to your senses.
We have the turquoise oasis scented oil plug(£6.99) in at the moment and I have to tell you it smells beautiful. It is fragranced with driftwood, sea-spray and warm breeze. It is such a clean and relaxing smell.
We also have the Freshmatic spray (£10.99) filled with Lush Hideway scent which contains the multi layered fragrances of wild berry, coconut water and fresh mint. Totally resfreshes my home with it's zingy small. Gorgeous, like bringing the garden inside.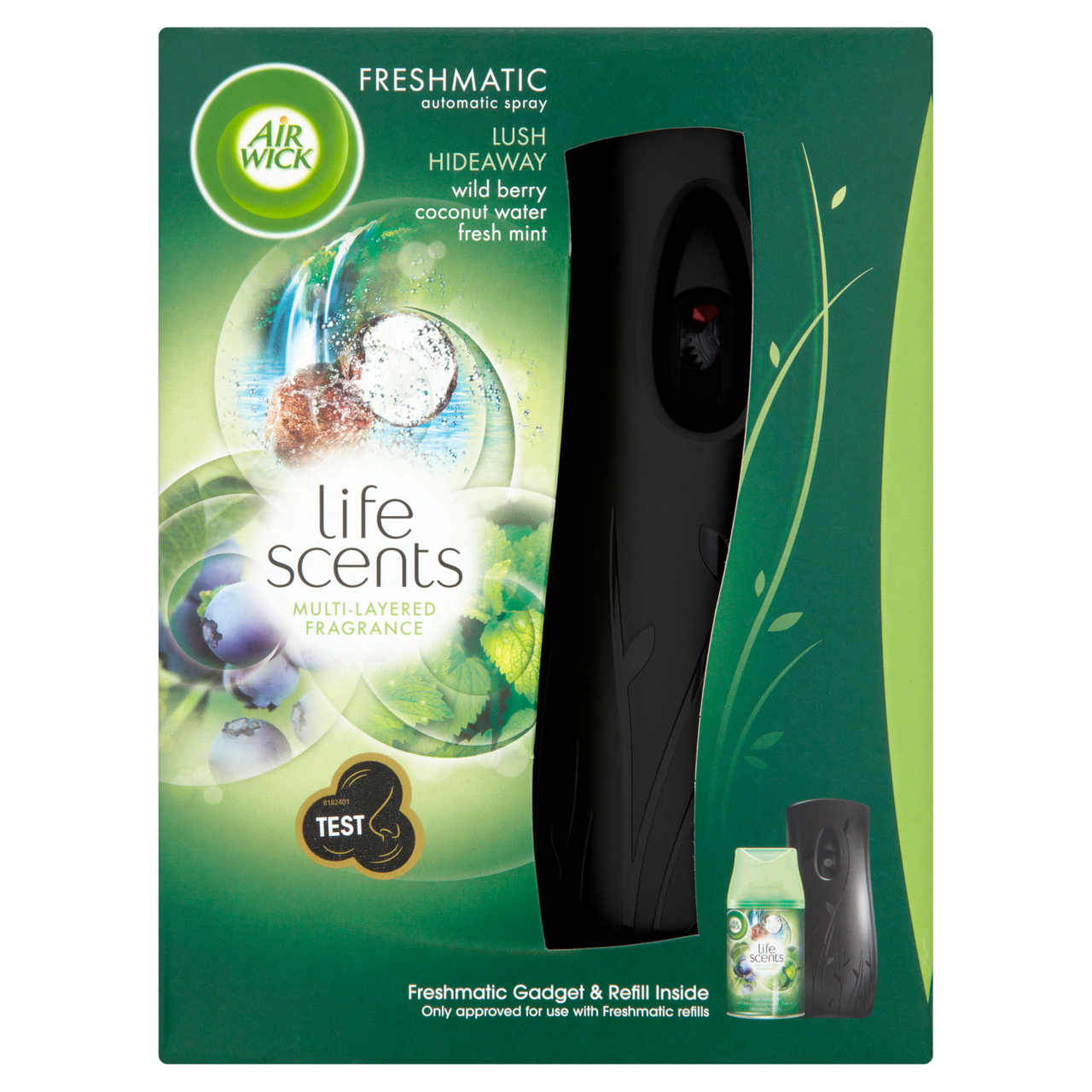 I am very impressed with this new mult-ilayering fragrance range range (the candle is my favourite)
Air Wick Life Scents range is available from Asda, Tesco, Sainsbury's, Morrisons and Wilko