Baby Shower Gift Inspiration for guests.

Baby Shower Gift Inspiration – it is all in the planning
The months preceding the birth of your baby can be filled with stress and anticipation; making sure that everything is planned, organised and ready to go for their arrival is so important, so that once he or she has arrived, you don't have to worry too much about the to-do list that is a little too long for you to handle.
While the days, weeks and months before baby arrives can be stressful, they can also be filled with fun too.
After all, it's a time to get excited! One of the ways in which you can truly let go and enjoy your pregnancy is by having a baby shower, which can either be arranged by yourself or a friend who would love nothing more than being the co-ordinator behind an event that will treat you and your new baby like you deserve.
The principle of a baby shower is to 'shower' the expecting mum with gifts and treats to celebrate her soon-to-be mumdom.
Gifts can be given, ranging from baby essentials to massage treatments for mum, games can be played and nibbles can be savoured. It's a time for all her nearest and dearest friends and family to come together and celebrate the new chapter in her life and if you've been invited to such a shindig and wish to take along a gift, here are five fab ideas to help to inspire you.
Baby Shower Gift Inspiration
Clothes
If you can, ask the expectant mum what sort of clothes she needs for the baby, because she's likely to buy a few bits herself.
There's no point having a drawer full of clothes that the baby will never wear, so make sure that what you do buy will have a purpose. Take a look at the baby clothes online at George and buy something that is not only age-appropriate but also season-appropriate too.
Sleepsuits, babygros, outfits, fleeces – it's all incredibly useful if you buy something she actually needs!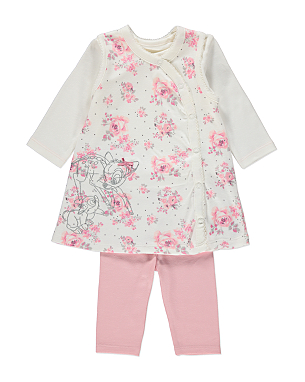 Nursery Essentials – Baby Shower Gift Inspiration
A sleeping bag for baby to sleep in, a mobile for their cot, a changing mat, a baby monitor – there are plenty of great ideas for nursery bits and bobs that would be a huge help to the mum if you bought it as a gift. Ahead of the party, ask her the kinds of things she needs and what she already has, so you don't double up.
Toiletries
There's no such thing as too many nappies to a new mum – they will get used! Baby wipes are another failsafe gift that will always be used. Other than that, a new baby doesn't really need much else – many toiletries such as baby oil and talc can be avoided altogether.
Treats for Her
While a baby shower will almost always focus on the baby, treat her instead, if you prefer. Buy her something that she will be able to make use of once baby is born, such as a spa treatment, vouchers for new clothes or some nice perfume.
Wishlist Items – Baby Shower Gift Inspiration
Does she have a wishlist of items that she would love but hasn't gotten round to buying yet? Things that can't really be deemed 'essential' but she'd love, anyway? A fancy changing bag, perhaps, or a funky sling? You'll make her day if you cross one of these items off the list for her.
Remember that baby showers aren't all about the gifts. They're an opportunity to enjoy some quality time as a group, playing games and having fun! I do hope you have enjoyed my posy filled with Baby Shower Gift Inspiration
You might also enjoy my post that explores what are pregnancy necklaces?