Kitchen trends in 2021 have me all excited.
I really think that this year is the year when finally my dream kitchen will happen.
Gosh, I hope so, I feel I have been wanting it forever! It's exciting to take a look at what's hot in the kitchen in 2021 and dream a little.
Do you do this? I love to have a little daydream about interior updates over a steaming hot up of tea whilst sat at my kitchen table.
It makes me happy.

Kitchen Trends in 2021
Overall the kitchen trends in 2021 are towards, muted, stylish, natural minimalist kitchens and I think they are seriously stunning! This has been quite the year hasn't it and we don't need loud and showy right now – what we need is calm and soothing to mirror what and this is totally reflected in kitchen trends in 2021 and throughout interior design trends 2021
What colours are trending in kitchen trends in 2021?
Black kitchens are trending! I know that is pretty hard to believe but it's true.
Would you have ever thought such a thing? It is the very last colour I ever thought I would say to you is trending in kitchens!
Most people pick a black and white kitchen combo rather than going all black though 0r it might well be too much. You wouldn't be able to see your croissants!
Greys which have been really trendy in kitchens over the last few years are still cool it is especially a darker muted grey that is very much on-trend in kitchen colours next year
If dark isn't your thing then please don't despair and think you will never find a kitchen you love -soft pastel colours will also be having a moment in kitchen trends in 2021. I have to say for me ( I love lighter colours) this is a big relief.
Powder blue soothes my soul!
Do check out https://barburykitchens.co.uk to see a range of fashionable kitchens combining classic styles with current trends
Are stainless steel appliances still cool in Kitchen trends in 2021?
Well yes and no …black stainless steel appliances are uber-cool and satin and matte finished appliances are cool but no one is giving up completely on trusty stainless stell yeat and there is still a lot of it about
Splashback trends
Splashbacks echo the walls and surface of a kitchen design trends in 2021 and they are muted and natural looking as opposed to shiny and glossy. Patterns are not going to be big in splashbacks next year but think texture instead.
Chalkboards, brick wood and even metals work as splashback trends and can be really striking features in a modern kitchen.
Plants in Kitchen Trends in 2021
What is your view on plants in the kitchen?
On the whole, I think no..they just make a whole lot of unnecessary work and clutter! But that said I do love the vibrancy of the greens and the thought of a living kitchen but I would do it with herbs and have a few dotted about on my windowsill. I would pick my absolute favourites such as mint and French parsley and put them in gorgeous little stone pots.
According to Metro the hottest houseplants in 2021 (if you do like a kitchen houseplant) is Velvet Calathe which I adore, a range of cacti (including bunny-eared cacti which I think look ridiculous) and a string of hearts (otherwise known as heartsease my absolute favourite plant ever.) heartsease looks perfect hanging from a high shelf as it trails beautifully and adds a touch of romance to your home.
Happy bean plants are en-vogue too and they really do look edible (but absolutely aren't)
Would you inject your kitchen with some houseplant love in the coming year?
Snake plants and aloe vera are always popular houseplants

Natural Worksurfaces
Shiny surfaces are redundant in 2021 and matte natural-looking finishes are in. Expect worksurfaces to be made if wood or marble to give a classic and understated look (that also bears up really well to the rigours of the kitchen.)
This is very reflective of fashion trends and other interior design trends that focus on hemp and jute and organic cotton, wicker, rattan, stone and the like – nature and natural materials are a balm in the strange times and we want to wear natural materials and being among natural things.
Minimalism in Kitchen Trends in 2021
Regular readers will know that I am a huge fan of minimalism throughout a home but especially in a bathroom and kitchen because oh my goodness a minimalist room is easier to clean. To keep a minimalist feel to your kitchen you will need a lot of great storage to get those kitchen appliances away and off the worktops. An uncluttered and clean look can be helped by handleless cupboards and a co=ordinated scheme.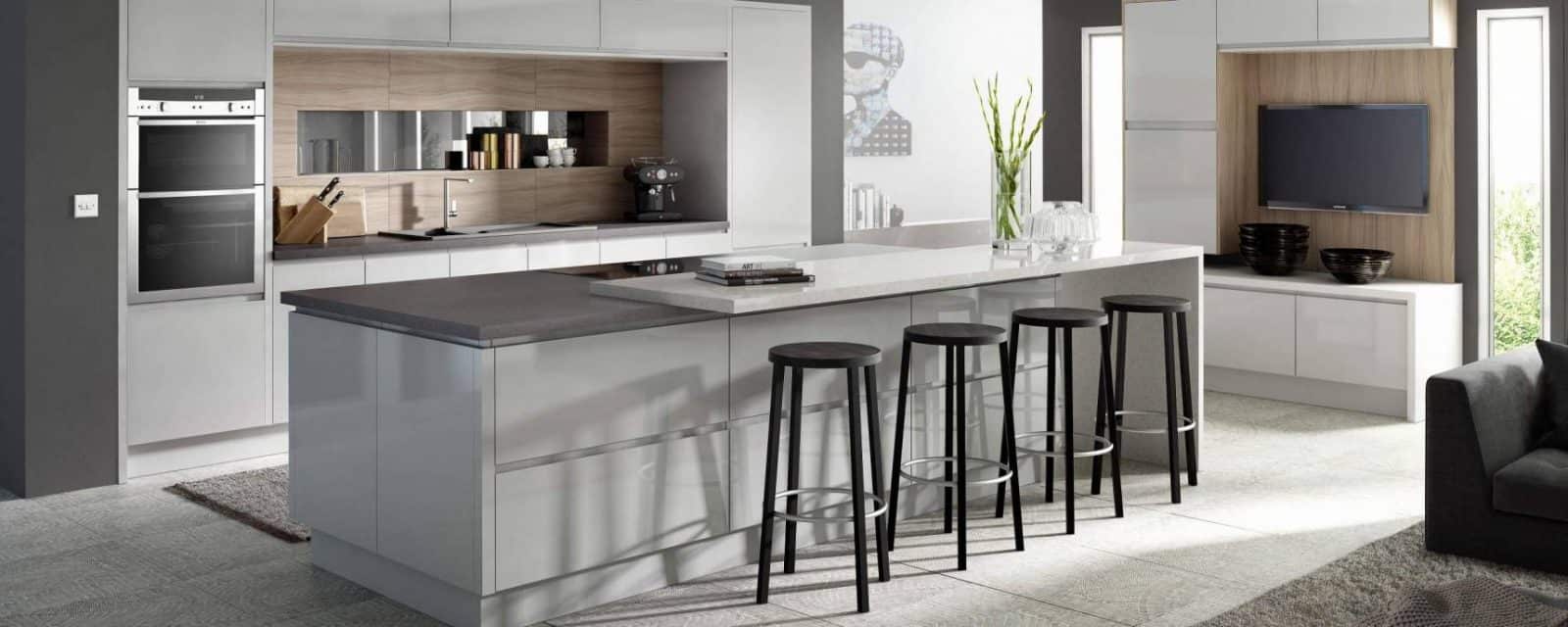 I find minimalist design restful and unfussy and the minimalist aesthetic is perfect for a room that is often busy and buzzy with colours of food and the smells and all the people coming in and out.
It helps me relax as I cook and it helps us all relax as we eat and I think this is really important for health and emotional wellbeing.
Clever storage solutions
Look at this clever storage solution that adds to the minimalist look offered to a kitchen Oxfordshire area from Barbury kitchens. Now that is how you store chopping boards well!
Built-in appliances go hand in hand with a minimal design too and I love this idea. I'm not a fan of white goods being on display in a kitchen ( or anything much at all apart from fruit)
What about you – do you like an uncluttered kitchen?
Kitchen Trends in 2021 are Eco-friendly
Is eco-friendly a trend?
I hope not. I truly hope it is here to stay and will become a permanent part of any kitchen design going forward rather than a passing trend we are ll might grow tired of.
The planet needs our long term commitment.
From energy-efficient taps and composters that can turn waste into plant food to the use of smart meters, eco-consciousness is an important element to put into any new kitchen.
From LED lights to food storage to prevent food wate little eco-changes to the kitchen can really make a big difference.
Using homemade or organic cleaning products will also impact your kitchen positively and a lack of chemicals is good for both your kitchen and your family.

Oversized Lights
Lights are going to be oversized and dramatic and a real feature of kitchen trends in 2021. Hang them over a kitchen table and you can really make it a focal spot in the room and delineate it from the rest of the kitchen.
I love the one in the image below (and the deep green against the dark walls.) and having recessed lights elsewhere really marks off the dining area. If you have a seating area in your kitchen for relaxing or just hanging out this use of lighting to delineate could be used again.
What do you think of these kitchen trends in 2021? Are there any you would like to incorporate into your next kitchen design or upgrade? I want them all!
Pin kitchen trends in 2021 for later
The best new kitchen ideas
I love to see what is new in kitchen design it gets my mind dreaming of changes and upgrades. Do you follow interior trends..are you dreaming of a new kitchen trends in 2021 too and are you planning to follow them
Do drop me a comment I just love to hear from you.
Kitchen Trends in 2021 is a collaborative post – you mihgt also like my post on bathroom trends in 2021