Minimalist Wall Art for the Home and a look how to decorate with art and decide on art for each room in your home.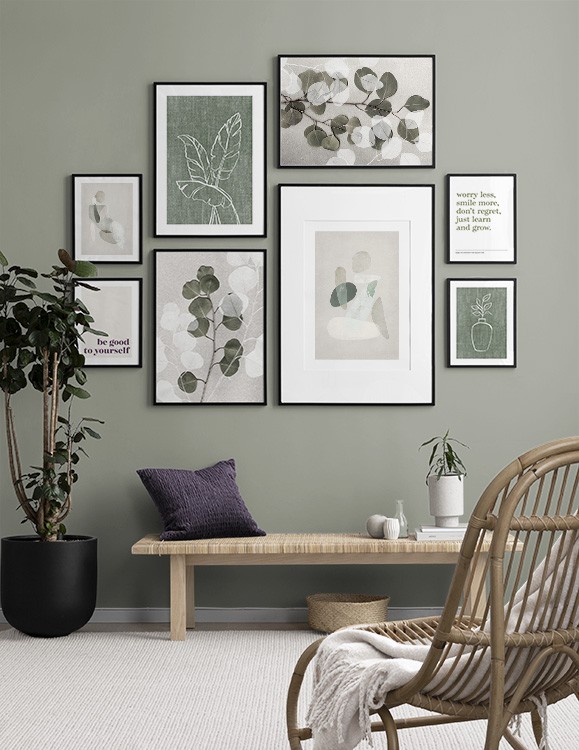 minimalist wall art
What is Minimalist wall art?
Minimalist wall art is art that is unfussy and simple, it could be a line drawing, a single word, a simple p black and white photo, abstract shapes. usually grey or white or monochrome it could also be a simple pop of colour.
Minimalist design has been described as:
'design at its most basic, stripped of superfluous elements, colours, shapes and textures. Its purpose is to make the content stand out and be the focal point. From a visual standpoint, minimalist design is meant to be calming and to bring the mind down to the basics.' *
Minimalist wall art in a contemporary home
Modern, minimalist art prints are the perfect way to enhance a contemporary home.
Minimalist interiors are unfussy, uncluttered, neutral, spacious and spare. They can on occasion look a little cold and without heart.
Using minimalist art prints enables you to keep a minimalist aesthetic but adds a lovely feel of style and design and gives depth and beauty to a modern home. It personalises and softens a neutral scheme without overwhelming or detracting from it.

pin Minimalist Wall Art for later
Minimalist wall art for the home – room by room
Let's take a look at some minimalist wall art and which rooms they would work well in.
Minimalist wall art for the bedroom
Your bedroom should be a sanctuary, a space and a place for you to retreat too to rest and relax. Minimalism allows a bedroom to be a place where your busy mind can rest and you can fall asleep without distraction. It is also importantly a place you want to look beautiful.
A bedroom is ( hopefully) also a place for passion. I think this Almost Kiss print would work perfectly in a bedroom design – isn't it gorgeous – simple but seductive.
Minimalist wall art for the lounge
It is possible to think a minimalist lounge would not look cosy but this is where texture comes into play. Big soft cushions, fluffy rugs and comfy throws all take the edge of what could be a rather cold design. The right art prints could also soften and make cosy a contemporary lounge.
I think these eucalyptus leaves breathe life into this lounge and look simple and beautiful.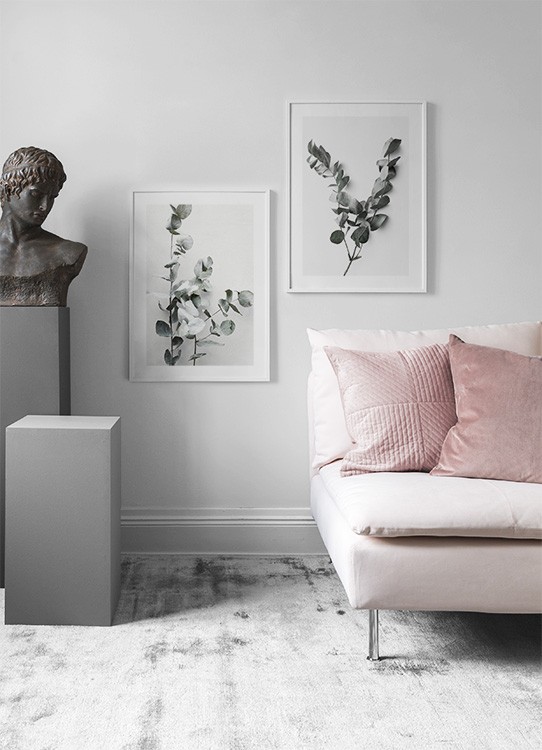 Designing a minimalist gallery wall
If you want to have a go at designing a gallery wall full of minimalist wall art this brand new gallery wall tool at Desenio is just fantastic.
I cannot tell you how much fun to play with it was and I could choose the frame sizes and prints and the layout until I was satisfied. And most importantly it was super quick and easy to use. Once complete you can choose your frame and it will give you a total price and with one click you can add it all to your cart.
A gallery wall in super quick time and such a simple process.
What a wonderful way to visualize how your gallery wall would like and create a design before you buy.
Minimalist wall art for the bathroom
Not everyone likes art in the bathroom but I do. I like a bathroom to be uncluttered to the extreme and mine is also pure white. A piece of art is absolutely required, along with a plant to give more character and a tiny bit of colour to the room. I love these palm trees against a pink sky.
Minimalist wall art for the hallway
Wall art in the hallway should be welcoming and I have to say I do love a text print to do the job.
This LOVE print is quirky and simple and embodies exactly what a home should be about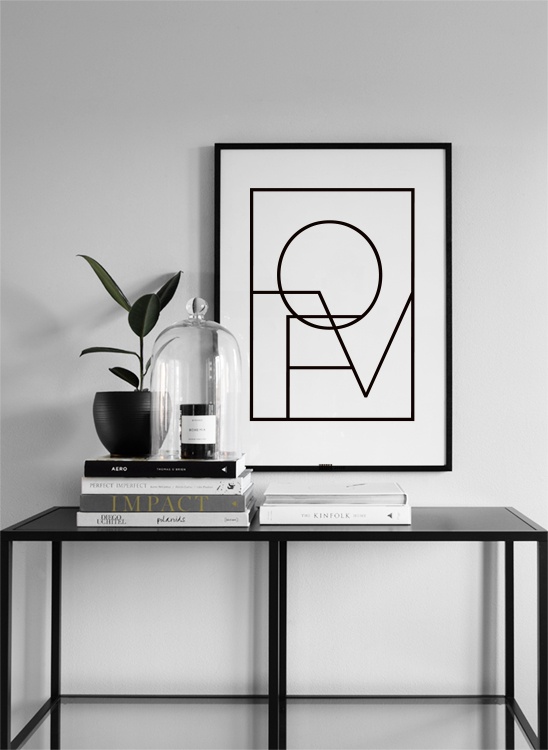 Minimalist wall art for the kitchen
And finally, we come to my favourite room in the house, the kitchen! This lollipop print comes in gorgeous shades and is very simple but also a lot of fun for a minimalist family kitchen I love it! Pop art meets minimalism.
So there you go minimalist wall art for every room, stylish, elegant, fun and quirky – something to suit every space and taste.
I do hope you have found this guide to wall art prints useful. Which one is your favourite?
Minimalist Wall Art is a Collaborative post