Refresh your kitchen on a budget by installing new flooring
Refresh your kitchen on a budget
Refresh your kitchen on a budget
The kitchen is the hub of the home and there's a lot of traffic travelling through on a daily basis. Meals being cooked, food eaten together as a family, children running through playing or returning home from school and leaving coats, shoes and bags in an untidy pile.
Every so often it's great to have a room redecorated and of all rooms in the home, the kitchen sees the most wear and tear. However, if there's very little in the kitty to treat yourself to a newly designed kitchen, it's time to get creative to change certain elements at a much lower cost and it will still feel like a new room.
New flooring
One way to refresh a kitchen is to change the flooring or you might even consider having one problem area redesigned professionally and if you Google bespoke kitchen design By Mike Taylor you should get some really innovative ideas. There are a number of popular ways such as tiling or solid wood.
Tiling a room can be expensive – and time-consuming. If it's a job you're not confident to carry out yourself, calling in a professional can really put a large hole in your bank account. Some less expensive options include stick on tiles, lino or laminate flooring.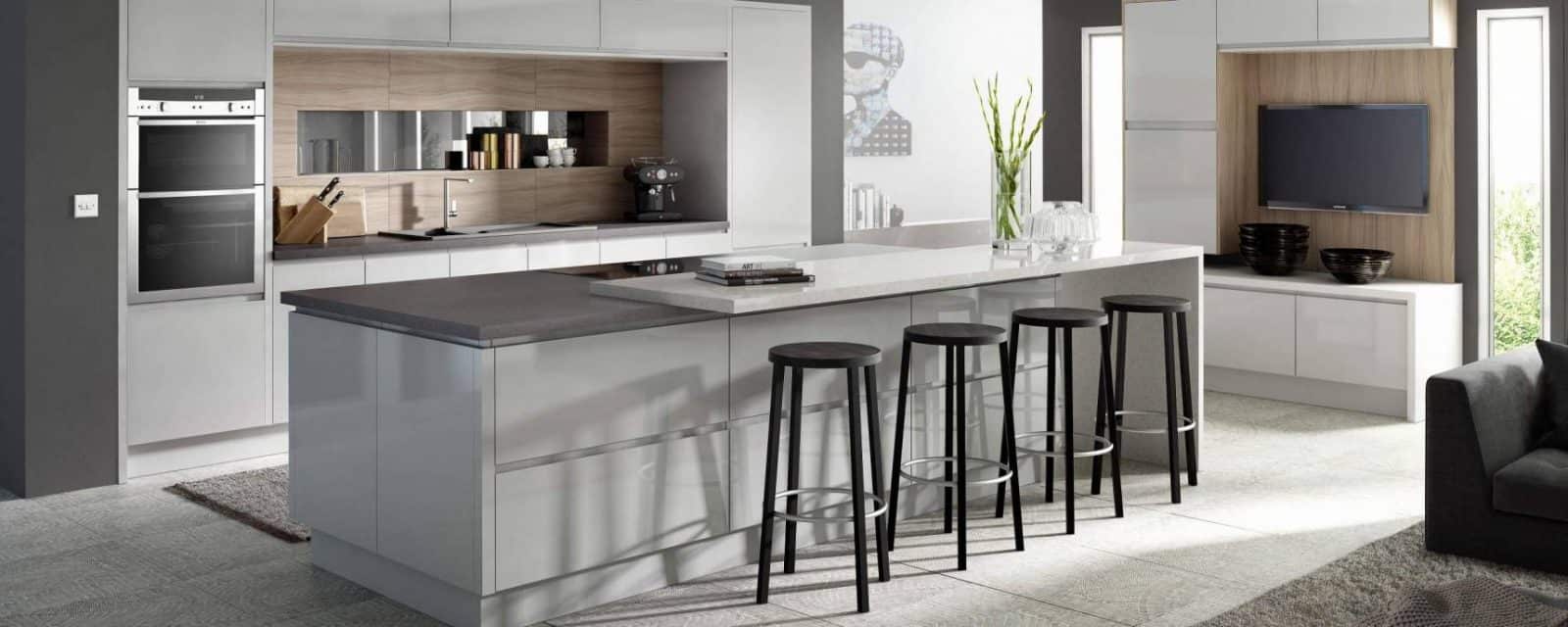 Refresh your kitchen on a budget – Flooring options
Solid wood floors look amazing and are incredibly durable. Oak and walnut can really give a warm and homely look to a kitchen. However, they are very expensive to buy and really need care and experience in installation as there will be joint ends to cut and pieces to cut to a specific length.
Stick on tiles are the cheapest choice and don't need any particular skills other than taking the patience to lay them carefully. There are a number of colours and designs to choose from and you can create a new floor in a day.
Lino is still a popular flooring type even though it's perhaps seen as a product of days gone by. Nowadays there are realistic looking tile patterns available and all you need is solvent and cutting tools. Be very careful in your measurements when you're cutting around corners or edges of any cupboards – once you've cut it, you can't go back on what you've done and if you measure incorrectly you could have unattractive gaps.
Laminate is now very inexpensive and it's available in finishes which look as if you've spent a huge amount on a real wood floor when in reality you've bought a number of packs of laminate at a fraction of the price. Laminate is now very easy to take on as a DIY job and you only need a few simple tools to have it laid within the same day.
The difference a new floor can make
You'll be surprised how much difference a new floor make when you are trying to refresh your kitchen on a budget. It can really update the look of the whole room and make it look clean and fresh.
Dedicate a weekend to clearing the furniture out of the room so you're not trying to work around possessions as you put the new floor in and if it's possible for the children to stay with friends or relatives then you'll have the peace and quiet to concentrate as well as knowing they won't try to cross the kitchen mid-job.
I do hope you have enjoyed this post on how to refresh your kitchen on a budget You might also like to take a look at my posts on lino or tiles – a look at the pros and cons
You might also like my post on kitchen trends in 2021
Refresh your kitchen on a budget is a collaborative post